Flexible Office Space Design
Adaptive workspaces to help create a thriving office
Adaptive workspaces refer to working environments that are flexible and adaptable on any given day depending on the team member's needs.
These environments are not simply the standard open-plan office or hot desk system; they are customisable workspaces to suit every employee's needs.
Activity-based offices assist employee wellbeing, increase the number of amenities, improve collaboration and interaction, create efficiency, reduce the number of separate offices. This could also provide your workplace with the agility to quickly adapt to growth.
Every day, more and more modern workplaces are implementing these multifaceted environments, due to the flexibility of cloud-based interconnectivity and the need for greater choice of working space. This is reducing the need for traditional fixed workstations and creating a need for evolving work styles.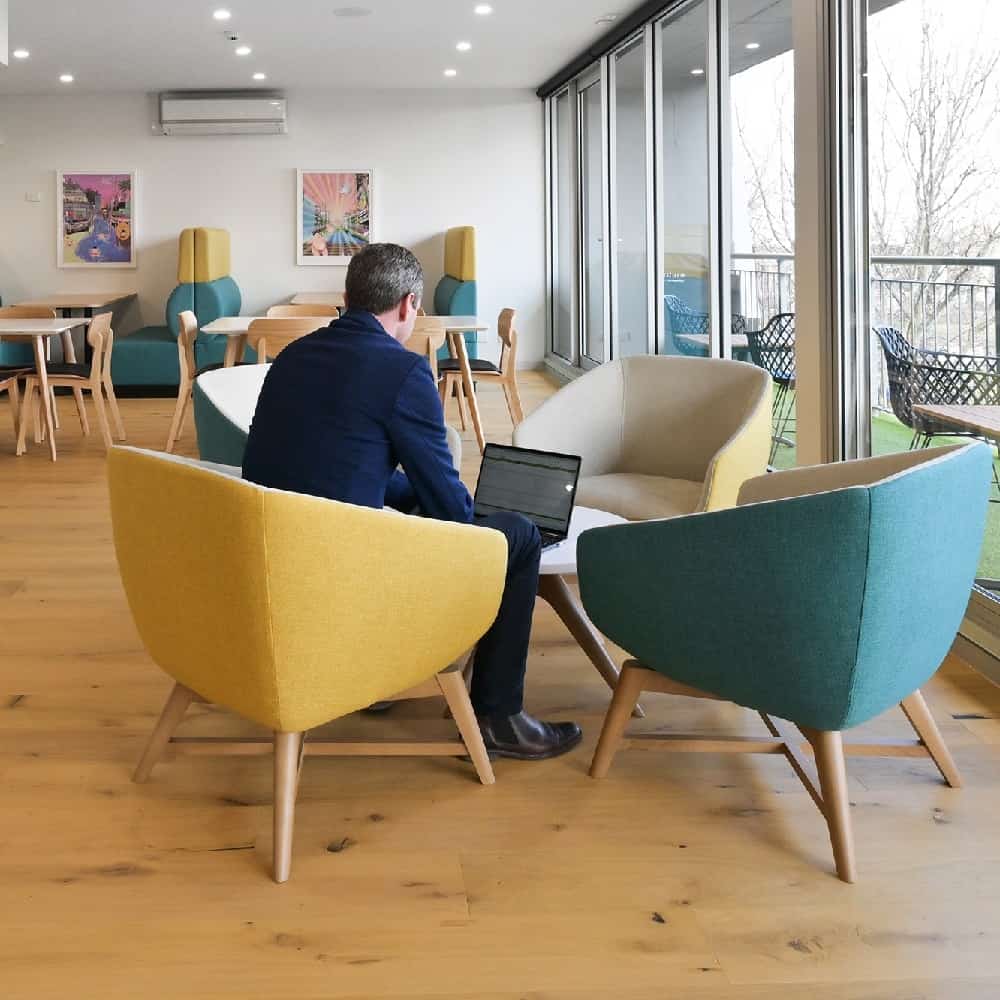 Activity-based environments are achieved through a combination of research, thought, and expert collaboration. If you want to implement a successful activity-based working environment while achieving an increase in productivity, it's important to have an office design with all kinds of space.
We understand that every business is unique and requires different functions and utilities. We seek to understand how and where your company would benefit from activity-based working. We assist you in planning a workplace strategy that works for you and your employees.
Our team listens to your companies functions, goals and needs to gain an in-depth understanding of how your environment needs to work for your business. This allows us to evaluate what is essential to your office, and provide suitable recommendations that deliver the most effective results.    
We will provide you with 3D renderings of your layout, to gain a full understanding of the office flow and environment, giving you confidence to go ahead and build the perfect fitout.
Once implemented, your workforce will have the choice of how, when, and where they work, rather than being restricted to one workstation.
Our team of experts are ready to guide you through the process and assist you to enjoy an adaptable, multi-purpose, efficient, and successful work environment.
Explore how customisable workspaces help create a thriving office
Just a quick email to say thank you to yourself and your entire team following all the work you did for us during our office refit out. As you know it was a substantial project made more difficult by the fact that we were operating as business as usual while your workers quietly went about the project. From the front reception desks, office partitions, café bar and huge board room table we are very pleased with the completed finish. Can you please pass our thanks onto your entire team, during the process we found your team easy to deal with and with a project of this size you would expect a few little bumps in the road but what impressed us the most was your ability to work through any issues along the way. So thanks again – I am happy for you to give my name to any prospective client – and on behalf of Methven Real Estate and directors Geoff and myself we say thanks and wish you well for the future.
Greg Earney
Methven Professionals - Mooroolbark
Get in contact with us today!