Transform Breakout Spaces With Innovative Commercial Workspace Designs
Creating inspiring spaces that encourage collaboration and foster wellbeing
They are locations that are available for employees to spend downtime each day as they escape from their desks. Typically they possess a casual look and aesthetic; however, each business has its own idea of what makes a successful breakout space.
Regardless of what you have in mind, our team will assist you through the process of refurbishing or designing your breakout space.
However, you first need to decide what makes a great breakout space and the key benefits of implementing one.
Breakout spaces are becoming more and more integral to businesses. They are assisting to improve retention, efficiency, collaborative communication, and staff satisfaction.
Every office has a diverse range of people, and that is why your breakout space needs to cater to various personalities. Whether you have introverts or extroverts, you could consider having a combination of both quiet and sociable lounge areas to cover all needs.
The main point of having a breakout space is providing workers with an area where they can regenerate, relax, be sociable, and retreat from their general work. To design a great space, it is integral that you understand the needs of your employees so that they can be addressed.
Bowen Interiors works with you to discuss with your staff and understand what assists them be at their best when they're at work. Once this information is compiled and plans are put in place, you will see that major benefits of breakout spaces include: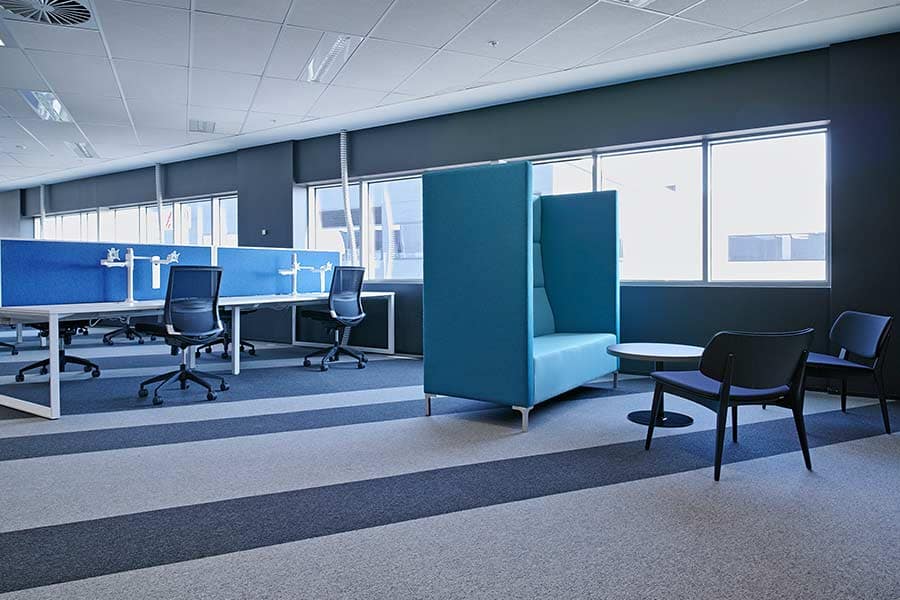 Break away from the grind of everyday work
They are somewhere employees can relax and be comfortable, reducing stress and increasing creativity and work ethic.
These areas allow employees the opportunity to interact and connect with fellow employees, including ones they don't regularly get to communicate with. This assists when it comes to team bonding.
Workstations can sometimes be distracting locations, with constant talking, phone calls, and other general noises. That's why breakout spaces are fantastic, as they can offer a quieter location. In turn, this is another benefit, as an additional work area has also been created.
Having a desirable breakout space is a great way to attract new talent and retain current staff. Adding a breakout area that keeps staff satisfaction in mind is a simple but effective way of showing the team that you are considerate of their needs.
Whatever you're after in a breakout space, whether it's lounge areas, quiet pods, or a game area, our expert team will assist you to address every need. Get in touch today.
Workspace Planning
Commercial Interior Design
Total Project Management