State-Of-The-Art Meeting Rooms With Innovative Office Interior Design
Meeting workspaces that inspire creative thinking, problem solving and innovation
Some of the most important business discussions transpire within board rooms and meeting rooms. That's why you need state-of-the-art meeting facilities.
Your meeting rooms need to foster a positive environment that inspires creative thinking, problem-solving, ideation, and high levels of participation and communication. This can only be achieved by creating meeting rooms that focus on improving comfort, collaboration, and concentration levels.
When it comes to investing in your meeting room setup, some important considerations include size, functionality, communication, and presentation. If you make wise decisions, you will end up with superb meeting space or conference room.
However, first and foremost, you need to ensure that you have the correct facilities and functions within your meeting room: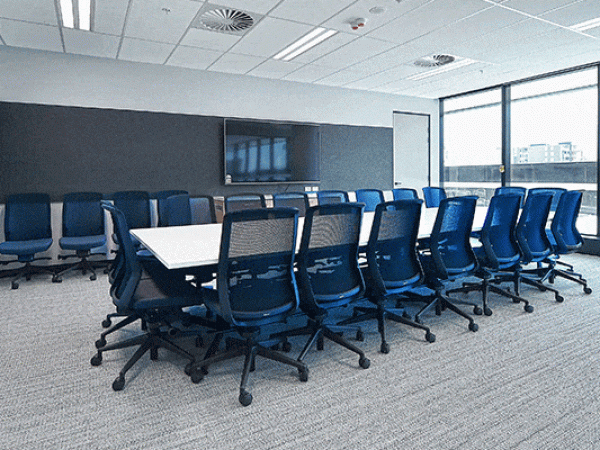 Increase meeting satisfaction
Consider having plenty of natural light and suitable furniture. That way, whether you're having a small meeting, or a whole business meet-up, satisfaction levels will increase right throughout the room.
Think about the aesthetic of your space and the various personalities that enter it. Consider ergonomic furniture and strategic lighting that will cater to any personality type. Our team can help you when it comes to these recommendations and designs.
Meeting venues are important, so that's why everyone needs to have accessibility and viewing. In modern meeting rooms, you must ensure that all the technological requirements to run successful meetings are met.
With decades of experience designing effective boardrooms, our consultants can assist in all the critical technological considerations. This includes IT & AV connectivity, acoustics, and equipment storage.
If implemented correctly, you can consider turning your meeting rooms into a versatile and multi-purpose space, which enables you to maximise the use of your entire workspace. This can be achieved by considering solutions such as portable screens and furniture.
Ensure that you are also considering acoustic solutions – whether that is decreasing or increasing sound.
When designing an effective boardroom or meeting rooms, it's important to engage the services of an experienced design firm. They need to have the expertise to ensure all the critical elements of teamwork and collaboration are met.
Get in touch with our consultants who can provide you with expert design tips.
Workspace Planning
Commercial Interior Design
Total Project Management